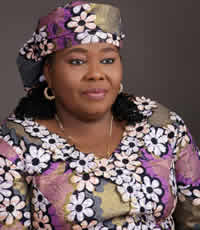 An elegant, hardworking and God-fearing Dr. Jummai A. Tutuwa was born to the family of Mr. and Mrs. Tutuwa Adamu from Donga Local Government Area of Taraba State.
Dr. Jummai is an alumnus of the University of Maiduguri where she obtained her B.sc, M.sc in Biochemistry and PhD in Food Science and Technology. Her profile is hereby presented for the conferment of a fellow of Biotechnology Society of Nigeria (BSN).
She is an Associate Professor of Industrial Biochemistry and the current Director General/CEO of the Federal Institute of Industrial Research, Oshodi (FIIRO) Lagos. Dr. Jummai has contributed to the advancement of biotechnology in diverse manners. She has taught different aspects of biotechnology courses, including medical, food science, medicinal plant at various times in different fora. Not only that, she has also promoted biotechnology as a Director in NABDA in different biotechnological events staged in countries such as USA, UK, France, Belgium, Canada, South-Africa, Kenya just to mention a few. Having served for over 30 years and attained great strides through her career in different sector of the society, which includes Health, Science, Education, Research technology etc.
In the area of scientific research, Dr. Jummai has conducted numerous studies in areas of industrial biotechnology amongst others. She is a dynamic and versatile research scientist with versed knowledge of analytical and technical skills that would benefit any organization, society or establishment across the globe.
She has published over 45 academic publications and technical reports in peer – reviewed scientific papers in both International and local Journals where she detailed extensive research and experimental knowledge of modern biotechnology, food science and technology. It is no doubt that she is a beacon of success for the emerging generation.  She has also secured a couple of research grants both at national and international levels. Decorated with numerous awards in community development, banking, technology innovations, resource management and development including the most recent "Best of all Science, Research Technology and Innovation in Nigeria.
Dr. Jummai is a pragmatic scientist and an astute leader who is able to focus on key issues and results to meet organizational priorities and make necessary critical decisions. Possess ability to manage challenging research schedules and fully committed to performing ground breaking research in an environment that fosters ingenuity and creativity.
She is a financial member of BSN, introduced over 30 staff of NABDA to BSN as a society and has contributed immensely in BSN 2013 annual conference held by National Biotechnology Development Agency.
To the glory of God, Dr. Jummai is a great leader, she advocates for individuals to be focus on their daily activities. She is married with beautiful and lovely children who have followed her giant foot step of achievement.